Dry freight containers are intended for ordinary cargo, have high freight capacity, different types of door openings.

Reefer container (container – refrigerator) are intended for cargoes that require refrigerator terms of transportation (fruit, vegetables, meat, fish, etc.). Possibilities of container include control of atmosphere, humidity, equipped by sensors. Freezing containers can cool cargo to –60С.

Flat Rack container is special container for transportation of heavy cargoes that require special transportation (heavy technical equipment and machines, etc.).

Artificial Tweendeck is used for cargoes that require special method of storage because of non-standard sizes (special equipment and other).

Open Top container (container with an open top) is intended for non-standard cargoes, equipped by moved roof arcs and tarpaulin cover.


Open Side/Open Top container (container with an open lateral side or top) is intended for easy filling and emptying. Equipped by moved lateral grid, rails on the top and roof arcs.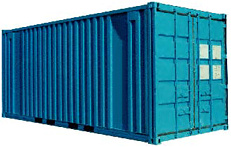 Dimensions
length
width
height
weight

External

20

'

7′ 9.25″

8′ 6″

Max. gross

52910

lbs

6096 mm

2370 mm

2591 mm

24000 kg

Internal

19

' 5.75″

7′ 8″

7′ 9.75″

Tare

4585 lbs

2080 kg

Doors

7′ 8″

7′ 6.25″

Max. loading

48325

lbs

2335 mm

2292 mm

21920 kg

Volume

1197.25

cu.ft

34 cub.m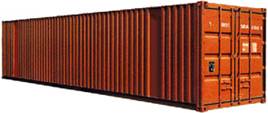 Dimensions
length
width
height
weight

External

40

'

8′

8′ 6″

Max. gross

67200 lbs

12192

mm

2238 mm

2591 mm

30480 kg

Internal

39

' 5.

2

5″

7′ 5.625″

7′ 10.25″

Tare

8600 lbs

12022

mm

2352 mm

2395 mm

3900 kg

Doors

7′ 8.25″

7′ 5.75″

Max. loading

58600

lbs

2343 mm

2280 mm

26580 kg

Volume

2392

cu.ft

67.7 cub.m
40 ft high cube container (increased capacity)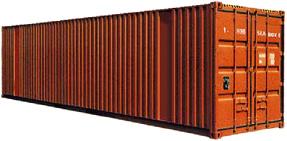 Dimensions
length
width
height
weight

External

40

'

8′

9′ 6″

Max. gross

67200 lbs

12192

mm

2438 mm

2895 mm

30480 kg

Internal

39

' 5.

2

5″

7′ 8.5″

8′ 10.25″

Tare

91500 lbs

12022

mm

2352 mm

2700 mm

4150 kg

Doors

7′ 5.75″

8′ 5.75″

Max. loading

58050

lbs

2343 mm

2585 mm

26330 kg

Volume

2679

cu.ft

76.4 cub.m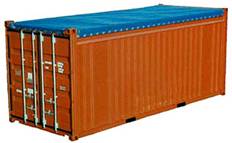 Dimensions
length
width
height
weight

External

2

0

'

8′

8′ 6″

Max. gross

52910 lbs

6096 mm

2438 mm

2591 mm

24000 kg

Internal

1

9

' 4.3″

7′ 4.1″

7′ 8.5″

Tare

5380 lbs

5902

mm

2240 mm

2352 mm

2440 kg

Doors

7′ 7.9″

7′ 4.1″

Max. loading

475205

lbs

2335 mm

2240 mm

21560 kg

Volume

1133

cu.ft

32 cub.m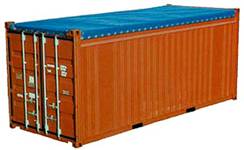 Dimensions
length
width
height
weight

External

4

0

'

8′

8′ 6″

Max. gross

79370 lbs

12192 mm

2438 mm

2591 mm

36000 kg

Internal

3

9

' 5.2″

7′ 8.4″

7′ 7.7″

Tare

9760 lbs

12021

mm

2350 mm

2330 mm

4430 kg

Doors

7′ 8″

7′ 3.8″

Max. loading

69600

lbs

2338 mm

2234 mm

31570 kg

Volume

2355

cu.ft

66.7 cub.m
Dimensions
length
width
height
weight

External

2

0

'

8′

8′ 6″

Max. gross

66140

lbs

6096 mm

2438 mm

2591 mm

30480

kg

Internal

18′ 9.4″

7′ 4.1″

7′ 1.3″
2177 mm

Tare

5

00

lbs

5727

mm

2240 mm

и

1′ 4.6″
420 mm

(

compact)

2

950

kg

Max. loading

60690

lbs

2

7530

kg

Volume

986

cu.ft

27.9

cub.m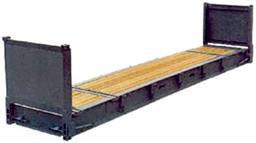 Dimensions
length
width
height
weight

External

40

'

8′

8′ 6″

Max. gross

88180 lbs

12192

mm

2438 mm

2591 mm

45000 kg

Internal

39

'

5

.6″

7′ 4.1″

6′ 8.1″
2034 mm

Tare

12190 lbs

12032

mm

2240 mm

и

1′ 10.4″
570 mm

(

compact)

5530 kg

Max. loading

87020

lbs

39470 kg

Volume

1936

cu.ft

54

.

8 cub.m
20 ft refrigerator container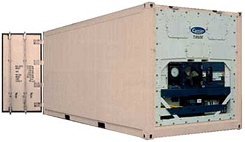 | | | | | | |
| --- | --- | --- | --- | --- | --- |
| Dimensions | length | width | height | weight | |
| External | 20′ | 7′ 9.25″ | 8′ 6″ | Max. gross | 27000 kg |
| | 6096 mm | 2370 mm | 2591 mm | | |
| Internal | 5455 mm | 2260 mm | 2275 mm | Tare | 3050 kg |
| Doors | | 2237 mm | 2260 mm | Max. loading | 23950 kg |
| | | | | Volume | 28.0 cub.m |
40 ft refrigerator container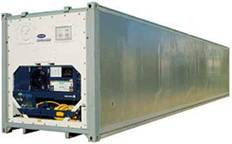 Dimensions
length
width
height
weight
External
40′
8′
8′ 6″
Max. gross
67200 lbs
30480 kg
12192 mm
2438 mm
2591 mm
Internal
11555 mm
2286 mm
2280 mm
Tare
4370 kg
Doors
2285 mm
2245 mm
Max. loading
26110 kg
Volume
60.2 cub.m
40 ft high cube refrigerator container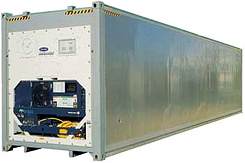 Dimensions
length
width
height
weight
External
40′
8′
9′ 6″
Max. gross
67200 lbs
30480 kg
12192 mm
2438 mm
2895 mm
Internal
9′ 6″
2895 mm
2286 mm
2500 mm
Tare
4200 kg
Doors
2286 mm
2478 mm
Max. loading
26280 kg
Volume
60.2 cub.m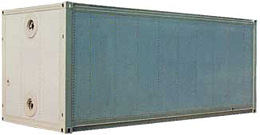 | | | | | | |
| --- | --- | --- | --- | --- | --- |
| Dimensions | length | width | height | weight | |
| External | 19′ 10.5″ | 8′ | 8′ | Max. gross | 44800 lbs |
| | | 2438 mm | 2438 mm | | |
| Internal | 18′ 6.5″ | 7′ 4″ | 6′ 10″ | Tare | 5600 lbs |
| Doors | | 7′ 4″ | 6′ 10″ | Max. loading | 39200 lbs |
| | | | | Volume | 929 cub.m |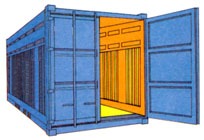 | | | | | | |
| --- | --- | --- | --- | --- | --- |
| Dimensions | length | width | height | weight | |
| External | 6068 mm | 2438 mm | 2591 mm | Max. gross | 24000 lbs |
| Internal | 5900 mm | 2323 mm | 2367 mm | Tare | 2650 lbs |
| Doors | | * | * | Max. loading | 21305 lbs |
| Ventilation | Top: 9,000cm3 x side | Base: 1,000 cm3 x side | | Volume | * |
20 ft container for bulk cargo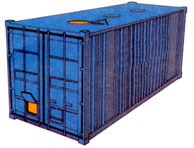 | | | | | | |
| --- | --- | --- | --- | --- | --- |
| Dimensions | length | width | height | weight | |
| External | 6068 mm | 2438 mm | 2591 mm | Max. gross | 28030 kg |
| Internal | 5838 mm | 2366 mm | 2374 mm | Tare | 2540 kg |
| Doors | | 2,144 mm | 280mm x 300 mm | | |
| Hatches diameter | 500 mm | | | | |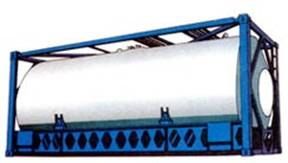 | | | | | | |
| --- | --- | --- | --- | --- | --- |
| Dimensions | length | width | height | weight | |
| External | 6068 mm | 2438 mm | 2591 mm | Tare | from 3620 kg to 4220 kg |
| | | | | Max. loading | 31000 kg |
| | | | | Volume | 24000 litres |
Technical characteristics of universal containers:

Symbol of dimensions

3

t

5

t

20

t

24

t

40

t

Gross mass, t

3

,0

5,0

20,0

24,0

30,48

Internal useful capacity, cube

5,16

10,40

30,00

32,1

62,40

Dimensions, mm




External

Length

2100

2650

6058

6058

12192

Width

1325

2100

2438

2438

2438

Height

2400

2400

2438

2591

2591

Internal
Length
1930
2515
5867
5867
11988
Width
1225
1950
2330
2330
2330
Height
2128
2128
2197
2350
2350

Sizes of door opening, mm

Width
1225
1950
2286
2286
2286
Height
2090
2100
2134
2261
2261
Dimensions of railway containers:

Type

Length

Width

Height

Volume, cub.m

Loading norm, kg

3

tons

1930

1225

2128

5,6

2400

5

tons

2515

1950

2128

10,4

3800

20

tons

5867

2330

2197

30,6

18000

24

tons

5867

2330

2350

32,7

21200